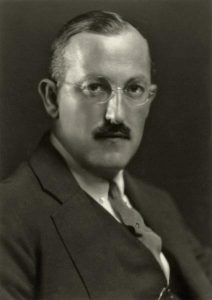 Alfred Cheney Johnston, New York'ta  8 Nisan 1885 tarihinde doğdu.1903 yılında, Johnston, New York Sanat Öğrencileri Birliği'ne katıldı. Fotoğraflarında sürekli kadın temasını kullanıyordu ve Nü fotoğrafının öncüleri arasındadır. Fotoğrafları zamanında cinsel olarak kabul edilip eleştirilse de büyük ün kazanmıştır. Johnston ayrıca, sessiz film yıldızları, reklam çalışmaları, sanayi firmaları ve sigara şirketleri için  yaptığı portrelerle de bilinir oldu.
1917'de Johnston, ünlü New York Şehri canlı tiyatro şov ve yapımcısı Florenz Ziegfeld tarafından işe alındı. Sözleşmeli bir fotoğrafçı olarak ve önümüzdeki on beş yıl boyunca Ziegfeld Follies için çalıştı.  Aynı zamanda New York şehrinin çeşitli yerlerinde oldukça başarılı bir şekilde kişisel ticari fotoğraf stüdyosunu da çalıştırmayı sürdürdü.
Follies Showgirl kadrosundaki kızların çıplak ve yarı çıplak bir çok fotoğrafını çekti. Bu fotoğraflar 1920 -1930'lu yıllarda yayınlanması sakıncalı bulunduğundan asla yayınlanamadı. Kendi sanatsal çalışmaları olarak kaldı ve ölümüne kadar gün yüzüne çıkmadı.
Johnston 17 Nisan 1971'de Connecticut'taki evinin yakınlarında bir trafik kazasında öldü. Ölümünden kısa süre sonra evinde sakladığı devasa Nü fotoğraflara ait arşivi ortaya çıktı. Fotoğraflarından 240 tanesi halen Washington DC'deki Kongre Kütüphanesi'de bulunmaktadır.
Dorothy Flood with The Mirror (1920)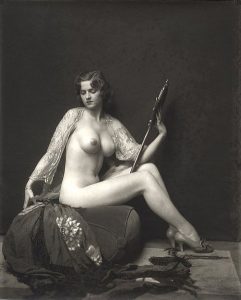 Alfred Cheney Johnston was born 8 April 1885 into a New York banking family. Educated as a painter and illustrator at the National Academy of Design in New York City, he attracted the notice of Charles Dana Gibson.
In approximately 1917, Johnston was hired by famed New York City live-theater showman and producer Florenz Ziegfeld as a contracted photographer, and was affiliated with the Ziegfeld Follies for the next fifteen years or so. He also maintained his own highly successful personal commercial photo studio at various locations around New York City as well, photographing everything from aspiring actresses and society matrons to a wide range of upscale retail commercial products—mostly men's and women's fashions—for magazine ads. He photographed several hundred actresses and showgirls (mainly in New York City, and whether they were part of the Follies or not) during that time period. Alfred Cheney Johnston died in a car crash near his home in Connecticut on April 17, 1971
And it was not until after his death in 1971 that his images displaying full nudity were discovered in a box on his estate labeled "Private".
His large prints are in Library of Congress Washington D.C. Library still has 240 images in its Prints and Photographs division.